How can I post my store products on my Facebook Page and share with my fans?



After linking a Facebook page to a store, the items in that store can be posted directly from your eCRATER administrative tool to the Facebook page

A Social icon used to post the product to the Facebook page will appear for posting in the administrative tool of the store to the right of each product with the existing buttons. The Social Icon is just below the G icon next to each product. See the yellow highlight below.






When you click on the social icon you will see the following page: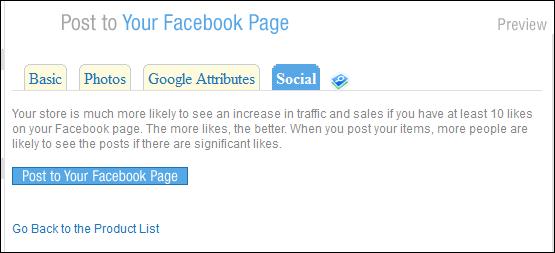 To post the item click on Post to Your Facebook Page

When you post your items to Facebook, you can add comments to your post with before you publish the item. You should comment and make your posts informative and interesting so that your fans will share and continue to follow your pages.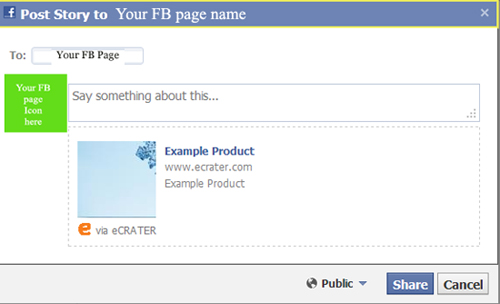 Click on the arrow next to Public to see the options for specifying a specific location that the post will be seen. You can set the location for who sees the post from eCRATER by making this selection.




Click Share.
After the item has been posted, the post history will show on the item with the date and Page Name that the item was posted to







It is recommended to only post a maximum of 5-6 products per day; otherwise the page fans may see the postings as spam and unlike the page. The fans of your page will see every post in the feed.





To post items from your UK store or your AU store you must log in to the administrative tool from your store in either the UK marketplace or the AU marketplace before posting.



For the UK store go to: www.ecrater.co.uk
Click Sign Up/Log In at the opt and log into your administrative tool for the store and follow the same procedure above for posting products to your Facebook page

For the AU store go to www.ecrater.com.au
Click Sign Up/Log In at the opt and log into your administrative tool for the store and follow the same procedure above for posting products to your Facebook page.



Read More:


How to connect your eCRATER store to your Facebook page
How to get a Facebook Like button for your store

___________________________________________________________